Book Title: Gulliver's Travels
Author: Jonathan Swift
Format/Print Length/Language: Paperback/336 pages/English
Publisher: Penguin; Revised ed. edition (30 January 2003)

Book Blurb: Gulliver's Travels
Gulliver's Travels describes the four voyages of Lemuel Gulliver, a ship's surgeon. In Lilliput he discovers a world in miniature; towering over the people and their city, he is able to view their society from the viewpoint of a god. However, in Brobdingnag, a land of giants, tiny Gulliver himself comes under observation, exhibited as a curiosity at markets and fairs.
In Laputa, a flying island, he encounters a society of speculators and projectors who have lost all grip on everyday reality; while they plan and calculate, their country lies in ruins.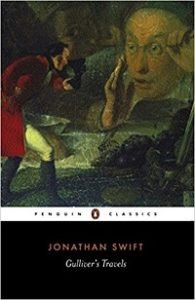 Gulliver's final voyage takes him to the land of the Houyhnhnms, gentle horses whom he quickly comes to admire – in contrast to the Yahoos, filthy bestial creatures who bear a disturbing resemblance to humans. This text, based on the first edition of 1726, reproduces all the original illustrations and includes an introduction by Robert Demaria, Jr, which discusses the ways Gulliver's Travels has been interpreted since its first publication.
For more than seventy years, Penguin has been the leading publisher of classic literature in the English-speaking world. With more than 1,700 titles, Penguin Classics represents a global bookshelf of the best works throughout history and across genres and disciplines.
Book Review: Gulliver's Travels
I read this engaging novel again in my graduation days and one thing is for sure that every writer must read it and so should every reader. This beautiful piece of fiction is an adventure novel and Gulliver's travel journey. In this book, Gulliver's adventures are divided into four parts.
The first part is a Voyage to Lilliput where Gulliver finds himself in the land of miniature people which are less than 6 inches tall and where you could see him as a giant among the race of little people. The second part is a voyage to Brobdingnag where he turns too little for your interpretations and people over there are like giants to him. The third part is a voyage to Laputa which is a floating island and then the last part which is a Voyage to the Land of the Houyhnhnms. 
You might like: Book Review 'THE GIRL by Nikita Singh & Satjeet Kaur'
So, Gulliver's Travels ends on a thought-provoking note at the place where gulliver enters the country of Houyhnhnms comparing humans to the status of an animal.
This book makes you a lover of satire beautifully penned in an interesting travel story. With lots of imagery, imaginations, and reality at play, this novel will definitely inspire you to keep on turning pages. The narration is great, but the language is not quite that simple or easy to grasp. Overall, the story has so many in-depth meanings that ensure you to grab a copy of it.
Although as a fiction Gulliver's Travels has done fairly well as other novels, as an adventure novel and the so-called satirical novel, the author has done complete justice to the plot, words and the characters. I would highly recommend this book to the travel lovers.
Rating:
4/5
Get a copy:
Have you read "Gulliver's Travels by Jonathan Swift"?
Please Share the post if you like it. Also, let me know if you have a BOOK REVIEW REQUEST in the comments.
You might like: 5 Bestselling Books on Personal Development & Self-Help
Happy Reading 🙂
Book Reviewer: NIKITA SINGH, a new age writer who works to build a parallel society for women and artists. She is an English literature graduate with PGDWE and a published author. Other than that, she is a content writer at a startup named ddkablog.