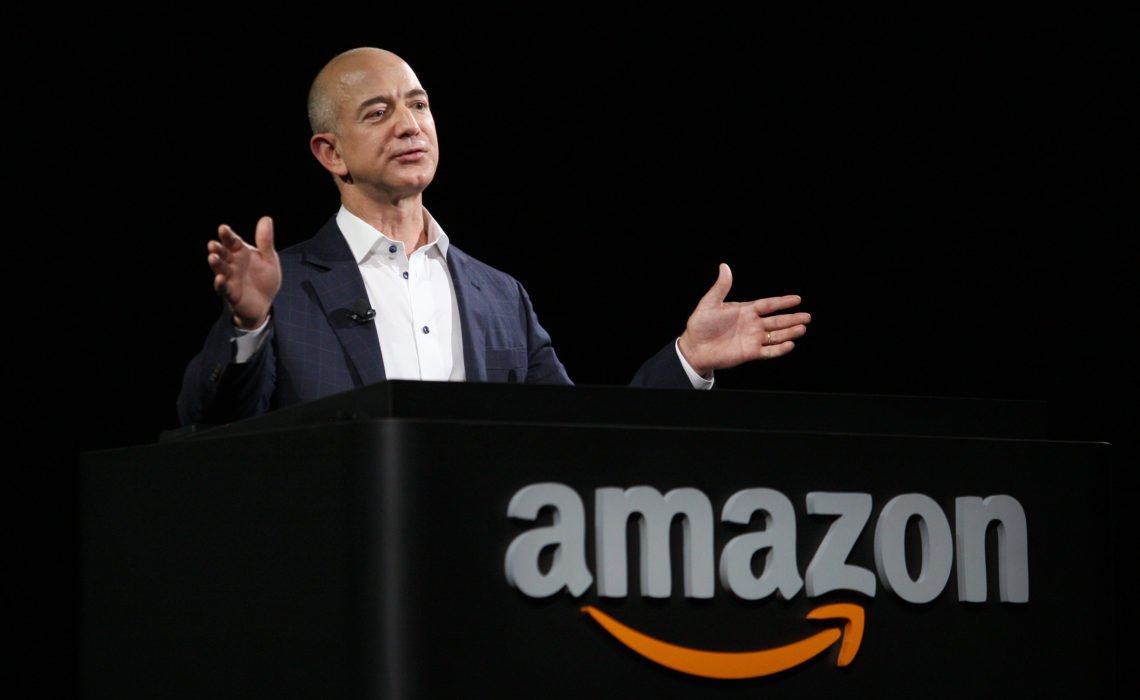 Do you shop online? Do you find yourself checking Amazon (founded by Jeff Bezos) first? Well! You're not alone. Amazon is consumers' first stop as mentioned in many studies. While in my case It's again Amazon and the most common reason has to be the cheapest prices available by the website on almost all the products especially books.

Also, the cheapest price is of course not the only reason for shopping online at Amazon there are many including the services, delivery costs and the prime membership benefits etc. Amazon in the past years have changed the face of retail.
Amazon's CEO Bezos left his job as vice-president of D. E. Shaw & Co., a Wall Street firm, and moved to Seattle, Washington. He began to work on a business plan for what eventually become Amazon.com. Founder Jeff Bezos's motto was "get big fast." The company was founded in 1994 as a result of what Bezos called his "regret minimization framework," which is described in his words here:
"I wanted to project myself forward to age 80 and say, 'Okay, now I'm looking back on my life. I want to have minimized the number of regrets I have,'" explains Bezos. "Also, I knew that when I was 80 I was not going to regret having tried this. I was not going to regret trying to participate in this thing called the Internet that I thought was going to be a really big deal."

"I knew that if I failed I wouldn't regret that, but I knew the one thing I might regret is not ever having tried. Also, I knew that that would haunt me every day, and so, when I thought about it that way it was an incredibly easy decision." – Jeff Bezos
And the rest is as they say is history.
Quote no. 1

A brand for a company is like a reputation for a person. You earn reputation by trying to do hard things well. – Jeff Bezos

Quote no. 2

If you do build a great experience, customers tell each other about that. Word of mouth is very powerful. – Jeff Bezos

Quote no. 3

There are two kinds of companies, those that work to try to charge more and those that work to charge less. We will be the second. – Jeff Bezos

Quote no. 4

We expect all our businesses to have a positive impact on our top and bottom lines. Profitability is very important to us or we wouldn't be in this business. – Jeff Bezos

Quote no. 5

One of the only ways to get out of a tight box is to invent your way out. – Jeff Bezos

Quote no. 6

If you don't understand the details of your business you are going to fail. – Jeff Bezos

Quote no. 7

Part of company culture is path-dependent – it's the lessons you learn along the way. – Jeff Bezos

Quote no. 8

I believe you have to be willing to be misunderstood if you're going to innovate. – Jeff Bezos

Quote no. 9

If you decide that you're going to do only the things you know are going to work, you're going to leave a lot of opportunity on the table. – Jeff Bezos

Quote no. 10

If you're very clear to the outside world that you're taking a long-term approach, then people can self-select in. – Jeff Bezos
I hope you found these Quotes helpful and also, inspiring as well. Stay tuned for more! Also, please share the post if you like it via social media buttons down below. A few books on Jeff Bezos to know more about him are listed below if you would like to have a look.
Also, please subscribe to my YouTube Channel for Videos on Motivation here… My YouTube Channel
Which is your favorite Quote?
 Until then!